Bean Bag Clown (Prototype)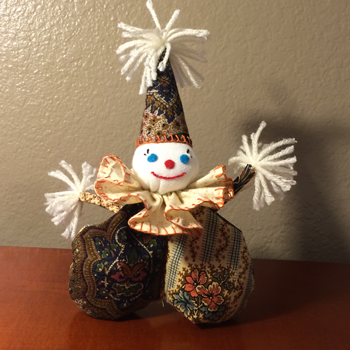 This clown is very special to me. I've wanted to make one like it for years. My grandmother used to make these when I was little, and my sister and I would help her. We would punch out the felt nose and eyes, stuff the hat with batting and the legs with beans, make the pom-poms for the hat and hands, and later, as I learned to use the sewing machine, I would sew the legs together as well. She would always do the hand embroidery, and the hard parts like attaching the head to the body and sewing on the ruffled collar.
I have a great fondness and nostalgia for these little guys, so I am very happy to have finally made one. I was surprised to learn that my sister actually has a surviving specimen! We used that to draft a basic pattern, and this is the prototype. There are a few refinements to make for the next one, but I'm pleased to bring this cheerful little fellow into existence.
Here's to you, Grandma!