Sunday, January 28, 2018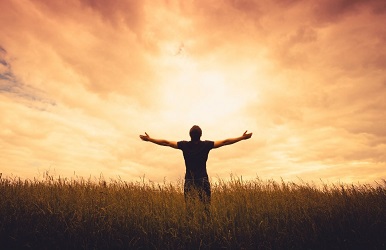 Sometimes people in the church tend to use the term "worship" in a fairly narrow context: that is, when referring to that portion of a church service or other church activity devoted to singing songs to and about God. Biblically, however, "worship" has a much deeper meaning.
True worship is never a religious exercise. It is an attitude and activity of the heart, the mind, and the spirit, and often the body as well. Worship is the right response of the soul to the excellence of God. God is the source and the pinnacle of every virtue. Everything we observe or experience in this life is imperfect, but God is perfect in every way. He is the very definition of perfection. God is the source, the pinnacle, the perfection of love, justice, purity, beauty, mercy, goodness, patience, compassion, wisdom, and so much more. He is worthy of all honor and praise, worthy of our devotion, our admiration, our adoration, and our love. Worship originates with the meditation or reflection on who God is, and is the resulting expression of honor, love, devotion, admiration, and adoration.
Worship should never be a means to an end, but is always the end in itself. Nevertheless, it is often the case that it is precisely those times when we open our heart, mind, and spirit to God in worship, love, adoration and submission, that God fills us most deeply and fully with His Spirit and His love.
We were created by God to live in relationship with Him, and a significant part of that relationship — and truly the most intimate — is worship.
A time is coming — and has now come — when true worshipers will worship the Father in the Spirit and in truth, for these are the kind of worshipers the Father is seeking.

John 4:23