Inkle Loom Plain-Weave Pattern Generator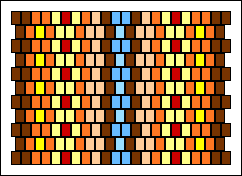 This tool will help you generate a pattern for an inkle loom. This tool is limited to a plain-weave, meaning that threads on the inkle loom alternate passing through the heddles. No special techniques are required to lift or drop individual threads during the weaving process.
To begin, enter the total number of threads in your weave. This is usually determined by the desired width of the finished piece, and the thickness of the yarn or thread that you're using. If you like, you can start with a rough estimate, and update the number as you develop your pattern.
If you love this tool and you'd like to donate, click here!